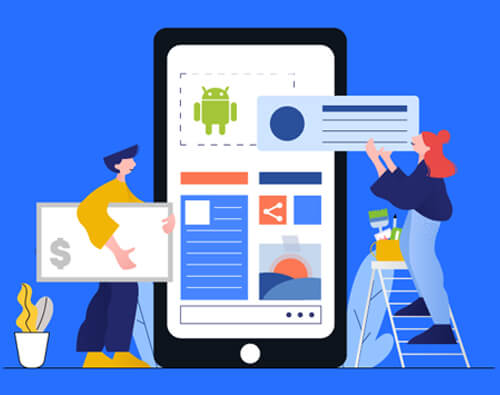 WE'RE EXPERTS IN ANDROID APPS DEVELOPMENT
Android application development in Delhi NCR, with the Most advanced and innovative ideas to accomplish all your business needs under one roof at Vista Neotech.
Mobile Apps are central element of our daily life.
Android application development services have been a staple of the business world for many years. There are so many different types of apps, from games to productivity tools, and they all serve very specific functions. No matter what your business needs are, there is an app that will help you meet them.
Android is now the most widely used mobile operating systems
Founded in 2005 by Andy Rubin, Android has become one of the most widely used mobile operating systems on the market today with over 2 billion active users globally. It was originally designed as a platform for touchscreen mobile devices such as smartphones and tablets but has also been ported onto other hardware platforms like televisions (Android TV), cars (Android Auto) and wearables (Android Wear).
Something more than websites
With android application we give our Customers something more than websites; they require to be able to manage events, make appointments, reach new products and services, and do it all with a few swipes and taps.
We are a team of android application developers who have had long-standing experience in this industry. We provide professional services and strive for excellence in every project we work on. Our skilled programmers can help you develop your app from start to finish, so contact us today!
Our services in app development.
With our services in app development, we use the best of technologies with customer friendly approach. Working, playing and moving has become today's trend.
Apps have become a vital part of daily life and provide access to the business. Need of more than a website and a social media button; and to be able to manage transactions, make appointments, access to new products or services.
Get ingenious app development services
Let's not leave your app development up to just anyone; and make it with the experienced and creative developers at vista neotech to make your app spontaneous, fast, and functional as well as practical.